Case Study: Edward-Elmhurst Health
Edward-Elmhurst Health is a 736-bed system that includes three hospitals and an extensive ambulatory care network that provides comprehensive healthcare to residents of the west and southwest suburbs of Chicago. The health system has been named one of the nation's Top Health Systems by IBM Watson Health and has earned the prestigious designation as Magnet hospitals for nursing excellence.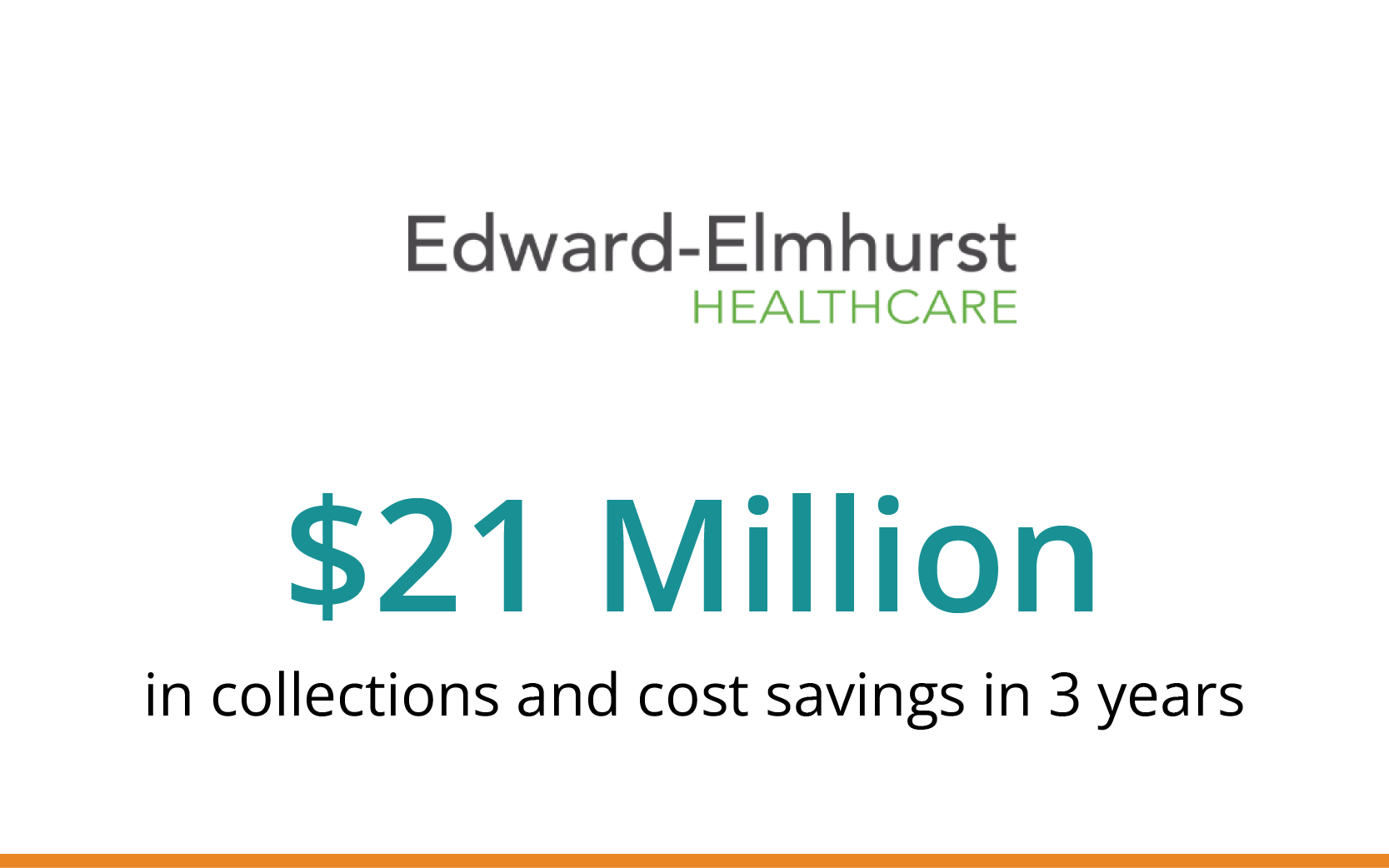 Healthfuse came on board in the middle of the pandemic last year, and despite the many challenges that entailed, they were able to deliver $6.9M in cash factor improvement in the first year.
Gregory Arnold, System Vice President
Revenue Cycle and Payer Strategy | Edward-Elmhurst Health
As one of the larger health systems in the state of Illinois, Edward- Elmhurst Health worked with numerous revenue cycle vendors and needed a way to optimize their revenue cycle technology while improving self-pay collections, reducing bad debt, and increasing patient payment satisfaction.
Edward-Elmhurst Health chose to partner with Healthfuse to help renegotiate bolt-on technology and collections outsourcer vendor contracts. Healthfuse used its rules-based auditing tool, AutoAudit, to gain insight into current vendor performance and identify opportunities for improvement and contract renegotiation.
Healthfuse generated more than $15 million in revenue cycle vendor performance and $6 million in cost savings for Edward-Elmhurst Health. A vendor-improvement program has been designed to be self-reliant and requires minimal time investment once operational. The opportunity value is broken down as follows:
To date, Healthfuse has delivered:
Collections Improvements of $15M
Healthfuse compiled a record of the past twelve months of each vendor's placements, gross collections, and fees. This performance was married with a process review to identify and quantify improvement values.
Contract Savings of $7M
Healthfuse reviewed and scored Edward- Elmhurst Health's revenue cycle service and technology contracts based on SLAs, freedom, flexibility, and fee structure. Contract rates were compared with those in the Healthfuse database to determine variances with market expectations.
Invoice Recoveries of $351K
Healthfuse used a multi-step review process to identify instances of vendor over-invoicing. Where significant issues were discovered, a 12-month retro-review was conducted. Typical invoice inaccuracies in outsourced performance based vendors range from 3.5% to 7%.